Recent publications on citizenship laws and policies
Citizenship and Immigration
by Christian Joppke, Cambridge: Polity Press, 2010
In a sweeping review of the entire field of citizenship and immigration, this book argues that citizenship in Western states is converging on a liberal model of inclusive citizenship with diminished rights implications and increasingly universalistic identities.
"This is a superb piece of scholarship" - Marc Morjé Howard, Georgetown University
"In this tour de force, Joppke moves nimbly from social theory to current policy developments" - Irene Bloemraad, University of California, Berkeley
Read the review of the book by EUDO-Citizenship co-director Rainer Bauböck: Citizenship in European immigration states: light or twilight? (European Political Science, 9, 2010: 439-445).
A Re-definition of belonging? Language and Integration Tests in Europe
Edited by Ricky van Oers, Eva Ersbøll and Dora Kostakopoulou
'As some Member States of the European Union lurch uncertainly towards nationalistic approaches to citizenship puzzling questions arise about the elements of that national identity. The search for legal mechanisms through which to describe national identity has increasingly focused on foreigners who apply to become citizens - naturalisation. Devising for and applying state administrative tests to foreigners to determine whether they are sufficiently close to the national identity to merit citizenship reveals important cleavages in our understanding of the nature of identity and solidarity in the form of citizenship. This book provides a fascinating insight into the process of creating tests, applying them and the outcomes for individuals and societies. In the process it uncovers for us some very important assumptions about belonging in Europe in the 21st century.' - Elspeth Guild, Jean Monnet ad personam Professor of European Migration Law
Download the table of contents and the authors' biographical notes here.
Citizenship Acquisition and Natural Belonging. Migration, Membership and the Liberal Democratic State
Edited by Gideon Calder, Phillip Cole and Jonathan Seglow. Basingstoke, UK: Palgrave Macmillan, 2010

What does it take to become a citizen of a particular nation? In a globalizing world, and with increasing international mobility, is it justified to restrict membership of a society? If so, on what grounds? Do societies need a distinctive national culture in order to thrive – and should this be a factor in the allocation of citizenship to those migrating from elsewhere? How is national identity actually perceived among the existing citizens of western countries?
Chapters by P. Cole, T. Torresi, D. Kostakopoulou, J. Hampshire, A. Shorten, D. Owen, R. Sales, R. Mann & S. Fenton, J. Seglow & G. Calder, and EUDO CITIZENSHIP Consortium Member Iseult Honohan. Click here to read the table of contents.
Citizenship in the Arab World
Gianluca Parolin, 2009: Citizenship in the Arab World, Amsterdam University Press

This book takes a broader legal perspective to the multifaceted reality of nationality and citizenship in the Arab world
The Policies of Citizenship in Europe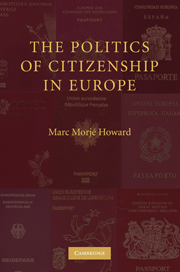 Marc Morjé Howard: Citizenship Politics in Europe, New York: Cambridge University Press, September 2009

This book offers a comparative political science analysis why European states have adopted different citizenship policies and why citizenship regimes in certain states have become more liberal in recent years.